Round Head Heavy Duty Steel Screw Posts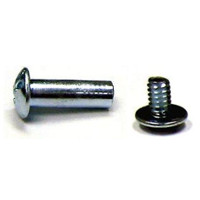 These round-headed heavy duty screw posts are ideal for extra-heavy materials such as carpet samples. They are the strongest screwposts we carry.
If you don't need the extra high strength, we recommend our standard steel screwposts or our industry standard aluminum screw posts. For a different look, please consider our plastic screw posts.
All Sizes of Round Head Heavy Duty Steel Screw Posts